When:
August 15, 2020 @ 6:30 pm – 7:30 pm
2020-08-15T18:30:00+02:00
2020-08-15T19:30:00+02:00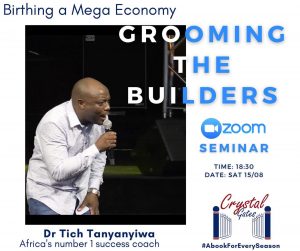 We are all in agreement that the economy needs to be turned around and one of the key resources in doing that are the people. Crystal Gates is bringing you Financial Coaching and business insight to help unlock your success paradigms. The seminars will be hosted and conducted by Dr Tich Tanyanyiwa CEO of Success Paradigms 101, Director at Bdellium School of Business and author of the books Masters of The Economy, Judaeo Abrahamic Wealth Factor.
The seminars commence on Zoom on Saturday 15 August and will be on for the next 3 weeks every Saturday till 29 August at 1830hrs. We are gifting our clients with access to this seminar please see Zoom ID for the Session 941 559 3495, please note that there is no password.