Aug
8
Sat
2020
Grooming The Builders with Dr Tich Tanyanyiwa on Facebook

@ Crystal Gates
Aug 8 @ 6:30 pm – 7:30 pm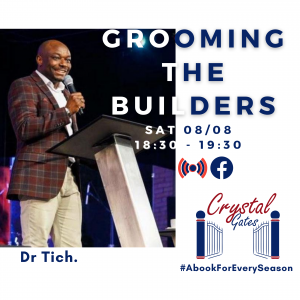 We are all in agreement that the economy needs to be turned around and one of the key resources in doing that are the people. Crystal Gates is bringing you Financial Coaching and business insight to help unlock your success paradigms. The seminars will be hosted and conducted by Dr Tich Tanyanyiwa CEO of Success Paradigms 101, Director at Bdellium School of Business and author of the books Masters of The Economy, Judaeo Abrahamic Wealth Factor.
The seminars commence on Zoom on Saturday 15 August and will be on for the next 3 weeks every Saturday at 1830hrs. We are gifting our clients with access to this seminar please see Zoom ID for the Session 941 559 3495, please note that there is no password.
Oct
9
Sat
2021
Integral Knowledge Creation and Innovation Book Launch

@ Crystal Gates
Oct 9 @ 2:00 pm – 3:00 pm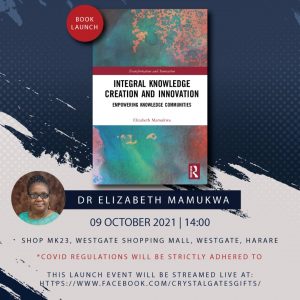 Integral Knowledge Creation and Innovation, Authored by Elizabeth Mamukwa, will be launched at Crystal Gates on the 9th of October 2021 at 1400hrs.
"This book will help the reader to realise that the subject of knowledge creation is no longer business as usual. Many innovations have been created for human benefit in general, but such innovations may have benefited only parts of society. The challenge in the world is that, while new innovations may be brilliant, there are sections of society which continue to slip into poverty. The book will be useful to students interested in the subject of knowledge and innovation, from undergraduate to PhD level. It will also benefit Captains of Industry, Executives and Managers who are interested in improving their knowledge improvement cycles in their Companies." Excerpt from Integral Knowledge Creation and Innovation, Authored by Elizabeth Mamukwa.
Elizabeth Mamukwa is a Research Director at the Pundutso Research Institute. She was the Chief Editor for Integral Green Zimbabwe (2014). She began her career as a School Teacher and then moved to Industry and Commerce in the Human Resources discipline. She has worked in five corporates in the Agriculture, Engineering, Manufacturing and Telecommunications sectors, rising to the position of Human Resources Director. She also does some consulting work.
The Book Launch will broadcast live on https://www.facebook.com/crystalgatesgifts.